Publications
Life After Cancer in Adolescence & Young Adulthood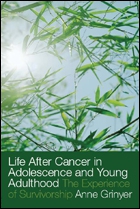 This book was published by Routledge in 2009 and is based on research with long term survivors of cancer in adolescence and young adulthood. This is often a difficult enough time without serious illness. However, research has shown that cancer, and surviving cancer, at this age presents distinctive problems medically, socially and psychologically. This important work offers a glimpse into a previously under-researched area and contributes to a better understanding of the needs of young adults post cancer.
Focusing not only on the physical effects, but also the social, cognitive, emotional and physiological consequences of surviving cancer in young adulthood, Anne Grinyer draws directly upon data collected from young adults who have been treated for cancer. The book is structured around themes they raised such as fertility; life plans; identity; psychological effects and physical effects. These issues are drawn together in the final chapter and related to clinical and professional practice as well as current policy.
This book presents the voices of those who have lived through the experience of cancer in young adulthood, and links them to the theoretical and analytical literature. It will be of interest to professionals and researchers in nursing, social work, counselling and medicine as well as medical sociologists, young adults living with cancer and survivors of young adult cancer.
"Dr Anne Grinyer's book shows that a cancer diagnosis during young adulthood can seriously affect life experiences and opportunities that don't necessarily apply to those diagnosed at other ages. This book will inform professionals, patients and families, and provides direction for future service provision for survivors of young adult cancer. A much needed insight into the challenges of surviving cancer when diagnosed as a young adult." – Myrna Whiteson MBE, Chair of Teenage Cancer Trust
"Following on from Young People Living with Cancer, this new book addresses the key question of what happens next. Through the willingness of the long-term survivors who trusted Anne with their life stories, this book provides a unique insight into both the character and quality of survivorship. An essential read for all health care professionals, but also survivors, their families and friends, as well as policy makers. This book is an important contribution to the literature in this area." – Professor Sue Ablett, Executive Director, Children's Cancer and Leukaemia Group
Contents
The late effects and long term consequences of survivorship
Case Studies
The physical legacy and the fear of recurrence
Long term follow up and the need for ongoing support
The emotional legacy: how it changes philosophy and perspective
Survivorship identity, the resistance to victimhood and the positive outcomes
The effect on life plans and the long term financial impact
The impact on fertility
Implications for policy and practice
Appendix: Methods
ISBN 978-0-415-47702-4